Moderators: Heelexploder, josephine, Alexainheels, minni, Cammile, Wetshoegirl, ambershotheels
Mine are leather sandals and leather boots. I also enjoy burning leather Sperry Topsiders.
Black patent leather stiletto heels, the higher the heel the better.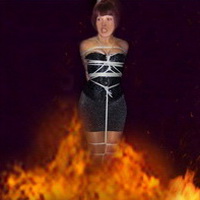 Posts: 46
Joined: Sat Nov 15, 2014 4:01 am
I love to burn leather shoes, boots and leather sneakers. I'm horny when the fire burns my skin and my shoes shrink from the hot flames. Ideally, these are shoes of young women. I burned a lot of women's shoes. Here is my channel:
https://www.youtube.com/channel/UCrAIF- ... 6PMd6wxtUg
Full leather high or mid heels and stiletto strappy sandals. Leather behaves best in the flames. It curls and bend and twisted around like it would be alive and in desperate agony. The sweet smell of burning leather is great and any plastic material exept the heels is spoiling the fun. I'm not that much interested in burning shoes made of fabric.
As skg210 did, I like burning patent leather as well:
viewtopic.php?p=112966#p112966
I do not burn every shoe. I collect heels in my size and my girlfriend's size, preferably vintage ones. So I have more than a thousand pairs now. I like to wear heels in private by myself and I like to see them worn by my girlfriend in the streets and during sex as well. I'm into burning and rescuing sexy heels from destruction at the same time.
If I see doomed heels in trash or in the Internet like the sexy shoes from user "italianstyle" I feel a strong demand to rescue them from their faith. Sometimes I beg for them and sometimes I could rescue a pair from burning or destruction. This gives me another strong sexual thrill. Every time I burn shoes or see them burning in the Internet I suffer and feel fascinated at the same time. This mixture of these opposite feelings frequently leads to a strong sexual arousal and a big ejaculation.
Posts: 46
Joined: Sat Nov 15, 2014 4:01 am
It is the same as I look above at the photograph of this tied girl with a raging hot fire underneath.
Any shoes that is made of natural material or man made material. They burn so nice and so hot.

Any shoes that melts. There is something sexy about a shoe loosing her shape, melting, and sometime catching fire, other time turning black and melting into a crisp ash. Heels, formal flats, canvis flats, sneakers, keds, shoes melt and burn very well.
I avoid leather. Not a big fan of leather. Its burning flesh and skin. And smell like it too.
Scuffy
Users browsing this forum: No registered users and 0 guests